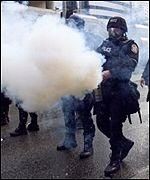 Coincidental with the 4th European on Non-Lethal Weapons (agenda here), the British Medical Association has released a report titled The Use of Drugs as Weapons. Not surprisingly, their assessment is highly unfavorable towards so-called "tactical pharmacology." The bottom line (edited for brevity):
The primary conclusion of this report is that the use of drugs as weapons is simply not feasible without generating a significant mortality among the target population…The agent whereby people could be incapacitated without risk of death in a tactical situation does not exist and is unlikely to in the foreseeable future. In such a situation, it is and will continue to be almost impossible to deliver the right agent to the right people in the right dose without exposing the wrong people, or delivering the wrong dose. Countermeasures may be easy to apply if such an attack is expected…

Ethical considerations aside, the BMA views the interest of governments in the use of drugs as weapons as dangerous for three reasons.

The international legal norms which protect humanity from poison and the deliberate spread of disease which have been put in place by decades of negotiation risk being undermined.
Widespread but responsible deployment of drugs as weapons would inevitably result in their reaching the hands of state or non-state actors for whom lethality among those targeted is not of concern. This would simply be chemical warfare with a medical label.
Using existing drugs as weapons means knowingly moving towards the top of a 'slippery slope' at the bottom of which is the spectre of 'militarization' of biology; this could include intentional manipulation of peoples' emotions, memories, immune responses or even fertility.
That's a noble sentiment, but I'm pretty sure the militarization of biology is already well underway, and some surprises await us in the future. Major Western nations may choose not to slide down that slope, but others will definitely do so.
Here's an older, related post: Militarization of biology: nonlethal weapons
BTW, a little bird tells me some of the taser guys were wearing a look of desperation at the NLW symposium. What, they're not used to taking the heat (or shocks? – sorry, couldn't resist) by now?
Filed under: biological weapons, chemical weapons, incapacitants, medicine, nonlethal weapons